This is Thursday's post. Oops. I guess I'm letting work get ahead of me again on accident. I really need to make it a priority to finish this thing strong. I mean, it's only two more months of posting. Less than that, really.
My week ended quickly at work, and I spent Friday night at a Flying Team awards party at USAFA since Dan and his team won Regionals last week. It was a good time -- lots of pizza, beer, cookies, talking, and fun.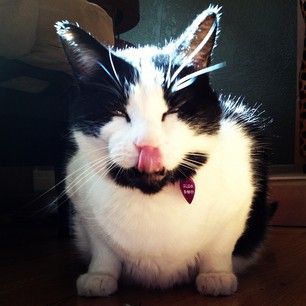 Today, I captured Gilligan looking like a doofus, but isn't he adorable anyway? I just love that cat. He is my little baby.
I hope everyone is having a great weekend so far! :)