Today has been a blast! This morning, we slept in and enjoyed that (almost) last moment of spring break. Sure, we have most of the day tomorrow, but then Dan goes back to USAFA, and I go to bed early for work on Monday morning. Boo. This break was busy but fun.
This afternoon, Dan and I went to the Cheyenne Mountain Zoo for the first time. I am a zoo freak, so I can't believe it's taken me almost two years to get there. It's right up the street, and we had a couple free passes that were well worth it. Actually, it would have been well worth it to pay full price as well! It was such an incredible time. I got to play with the giraffes (and I paid to feed them)... we got a TON of cool pictures, but I haven't uploaded them yet, so I'll make a post about our trip to the zoo soon. For now, here's one from my phone of a very tall buddy I met today: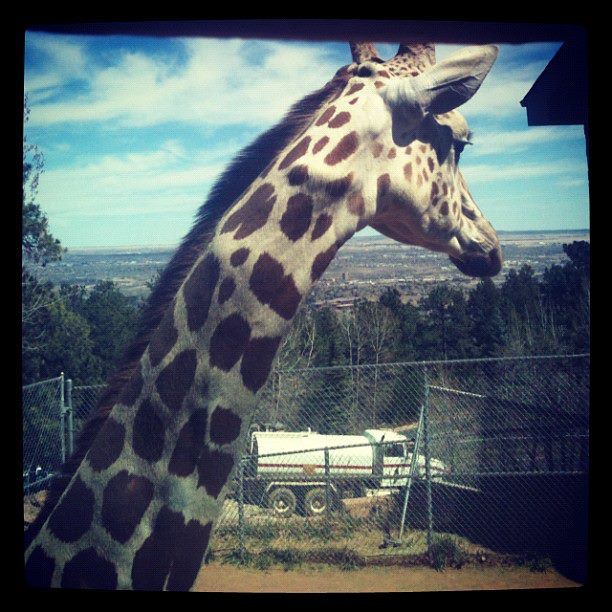 Afterward, we came home and made dinner. We had fettuccine alfredo with broccoli, garlic toast, salads, and green beans cooked in butter and garlic. It was delicious. The only reason we didn't grill, though, is because there is a ban on ALL grilling right now in Colorado Springs because the fire danger is so high with the dry air and winds. We've been on a grilling kick lately, so that's a bummer, but the dinner was still delicious!
Following dinner, we decided to start organizing the guest bedroom because it is STILL full of boxes and random stuff from last August when I moved. We have been tackling that for a couple hours now, and it's looking much better and less overwhelming. We did find Dan's binder full of letters from USAFA Basic, though, and it made me think about that time. It was his third basic (and our second one together -- I wasn't with him when he went through Army basic), so I got kind of nostalgic and put together a small collage of pictures from that time. The pink letter is the cover of his binder. The picture to the right is the sign I made to hold up at the Cadet Chapel wall while he marched to lunch each day (it's symbolic so he wouldn't get in trouble for me singling him out!). The ones on the bottom are of us right AFTER basic ended when we hiked Eagle's Peak together. The one on the bottom right is one that WebGuy (the man who takes pictures of cadets through basic and their time at USAFA) captured of us while I was dropping Dan off at Doolittle Hall to inprocess. There were so many emotions going through me at that time. I was proud of him for what he was doing but fearful to live alone in a new city without him. I was happy for his incredible opportunity but sad to have to be away from him for so long. In the end, it all worked out, and we survived with no problems! It's always fun to look back. :) Here's the collage: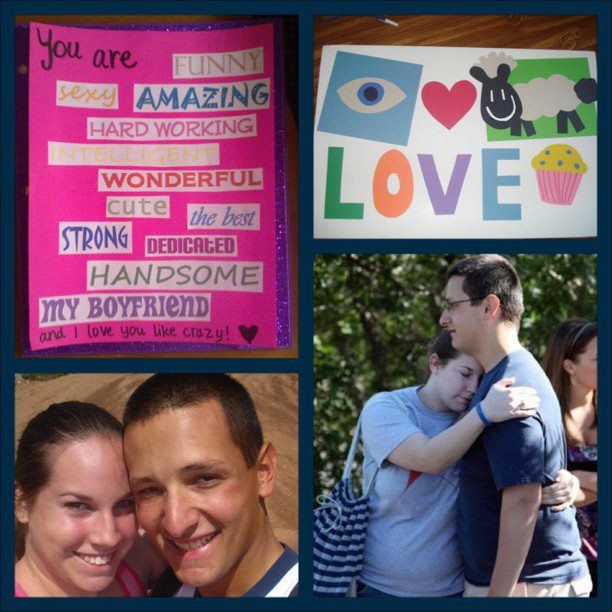 Well, I better get back to work!