Friday was the LAST day of November! Can you believe it? Where did this year go? It's already December? Seriously? I'm not sure I'm a fan of that, but what can you do? At least it means that Dan and I are officially under 18 months until our wedding! Friday marked that for us, and we are so excited! :)
Friday morning, as I drove into the parking lot of the school I teach at, I noticed the most beautiful sunrise. I know I see a lot of them -- Colorado is wonderful for colorful skies. However, this one was just spectacular, so I rushed out of my car to take a poor quality iPhone picture of it... check this out!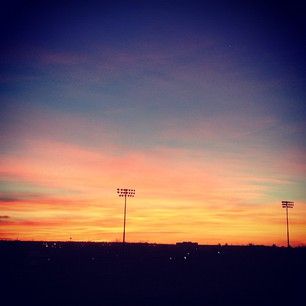 You can see the lights that are in the high school football stadium.
On Friday after work, Dan headed to my house, and I had written him a fun little poem explaining that we were going on a surprise date night! He was really happy about it, so we got ready and headed to Jack Quinn's downtown for a delicious dinner, and then we went to see Lincoln! It was fantastic, and we're pretty impressed that we have seen two movies in the past month. It was only the third movie we went to together in 2012, so I guess we needed to make up for that. We're terrible movie-goers, but that's okay. We had a WONDERFUL night together, and it was a lot of fun to forget about everything else and just spend some time together. :)