Whoa! How did I miss so many days in a row? Eek! I have to catch up because this is the very last month of my every day blogging adventure... can't mess it all up now!
Last Thursday, my brother left my house and drove back to Kansas City.
I went to dinner with Eryn at Pueblo Viejo, and I shopped at Hobby Lobby for some Christmas decorations for my classroom. (I decorated it Friday morning -- check out the picture below!)
It was nice to have a relaxing evening with a friend. It was much needed! :)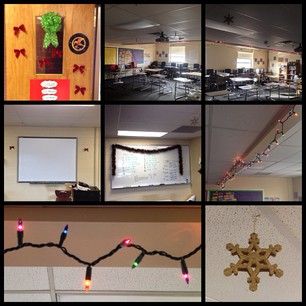 I put up lights, snowflakes, bows, ribbons, etc. The kiddos LOVED it!
I will continue to post updates... oops!