On Saturday, Dan and I woke up early (6:30 -- too early for a weekend!) and drove up to Copper Mountain. We spent the day skiing (well, I spent the morning skiing, and Dan spent the rest of the day skiing while I read a book in a coffee shop... oops). It was a lot more difficult than last time, and I did defeat myself early on, but I still did better than a couple years ago when I started and hated it so much.
My knees were SO shaky by the bottom of the run, but I didn't fall over even once! I was so happy about that, but my legs definitely could not keep going for more than one run, which is a bummer. I'd like to be able to make it through two or three before needing to stop, but I'm still working on my left knee. I do strengthening exercises at the gym all the time, but it's just not there yet. (I tore my MCL when I was 12, and it never healed properly).
On the way home, it snowed. A lot. And we saw a couple stranded on the side of I-70 in a smaller car, so we pulled over and hooked up a rope from their car to Dan's truck and pulled them out. It was his good deed, I guess, and the first time he REALLY got use out of his Ram he bought last spring. :)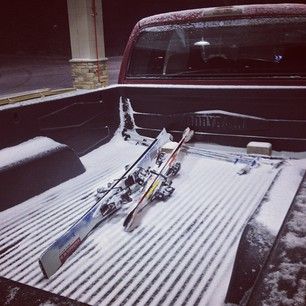 So glad we drove his 4WD truck!!!