When Dan was at the Air Force Academy's Prep School, we didn't get to see each other very often because it was too expensive for me to fly out to Colorado from Missouri more than once every couple of months. Since our anniversary is at the end of February, we really wanted to see each other then, especially because it was our very first dating anniversary. Valentine's Day is just 11 days before our anniversary, and it happened to fall on Presidents' Day Weekend that year (meaning three day weekend), so I flew out from Friday through Monday, and we had a blast!
On Friday when I got in, we searched and searched for Chinese food in Denver, but since we couldn't find any buffets (classy, I know. We were STARVING), we settled for a Mongolian BBQ place that was tiny and weird... but so good! We stayed in Denver that night and had the BEST free hotel breakfast the next morning. On Saturday, we went to see Dear John at the movies (I had just finished reading it, and Dan was so gracious to agree to go with me, though it did scare him away from ALL Nicholas Sparks novels-turned-movies from that point on), and neither of us enjoyed it. But we had a lot of fun exploring Denver afterward and then heading to our hotel in Colorado Springs. The Winter Olympics were on at the time, and we all know I'm into the Olympics. Instead of going out, we picked up fast food and ate it in our hotel room while watching the Olympics (it was skiing that we enjoyed that evening!). It was a lot of fun just hanging out, cuddling, and watching TV together. Most people would think of that as something normal to do, but when you're in a long distance relationship, it is anything but the norm. What little time you get to spend together is usually consumed by activity after activity, trying to pack weeks or months of fun into a single weekend together.
We took this picture in Denver after we realized we hadn't taken any in 24 hours of being together! Oops.
On Sunday, Dan told me that he had a surprise for me, and I knew we would be celebrating our anniversary that evening. We got all dressed up and headed out. Dan drove us toward Manitou Springs (a little town I love), and we ended up at the Miramont Castle (
READ ABOUT IT HERE
). It was GORGEOUS, and I was ecstatic that we were having dinner inside a castle! They do not serve food all the time, but they were having a special Valentine's Day dinner, and somehow Dan found out about it. (Have I ever mentioned how awesome and creative his dates are?!)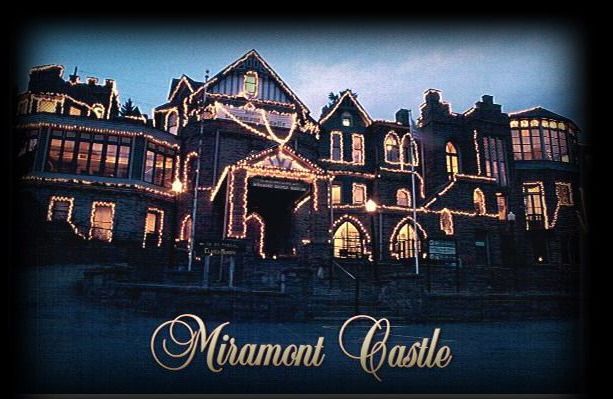 Isn't it majestic and beautiful?
We had our dinner (delicious, by the way, and totally out of our norm), and Dan gave me a ruby necklace surrounded by diamonds. (I am actually wearing it as I type this -- I still love it!). The ruby is my birthstone, and Dan's birthstone is the diamond, so it is perfect, and that is how he explained why he chose it as well. The sneaky guy had also sent pictures of it to my friends to make sure it was something I'd like! Ha! I couldn't carry the gift I had made for him into the castle, so I gave it to him when we got back to the hotel. I bought a glass fish bowl and painted on it. Then, I filled it with 365 things I love about him, all written in Sharpie on small, bright colored pieces of paper. He absolutely LOVED it, and he had a new "gift" each day for an entire year. I enjoyed making it for him, and he kept it out in his dorm room at the Academy for a LONG time (and received compliments on it randomly!).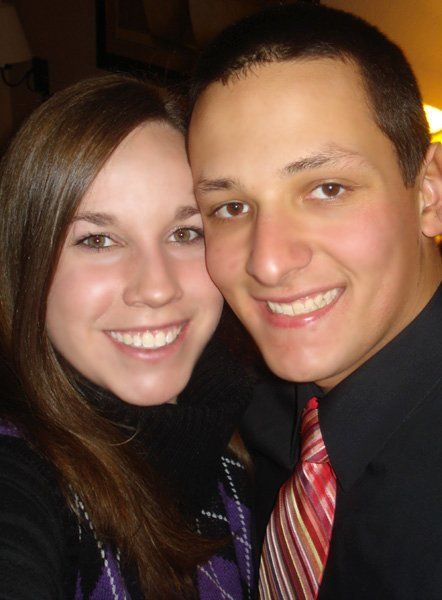 Heading out for our anniversary dinner date! I love this photo so much!
The fish bowl gift! It says: "There are millions of fish in the sea, but you are the only one for me!" There are waves and little fishies painted on it too, but you can barely see them.
The next day was my last day in town, and we went apartment hunting! It was fun looking at the placed I had called about, and we actually ended up finding THE PLACE that very day. I didn't sign a lease for another month or so, and I didn't move in until the end of May that year, but finding it during that trip out to Colorado was awesome. I didn't have to worry anymore. And before taking me back to the airport to head home, Dan and I found an AMAZING Mediterranean joint in Colorado Springs called Heart of Jerusalem, and we still go there regularly. Leaving Colorado was super tough that time, but Dan was coming home for Spring Break a month later, so we had that to look forward to!