As soon as I heard that Shawn Johnson was coming out with a book, I was ecstatic, and I didn't have to wait long. I bought
Winning Balance
just a few weeks after it was released, and I couldn't put it down. Shawn's journey was enthralling to read about, and I'm glad I did.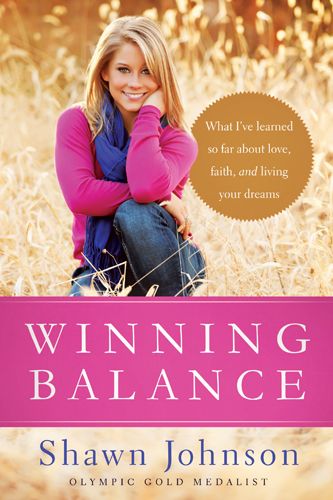 If you're not sure who Shan Johnson is, you've been living under a rock. No, but seriously. She is an American gymnast who competed in the 2008 Olympics in Beijing, helping the USA Team win the silver medal. She also won gold on balance beam during the individual event finals, silver on the floor exercise during the individual event finals, and silve in the All Around finals. She's a small town girl from West Des Moines, Iowa, and she trained with Coach Chow, the same one Gabrielle Douglas trains with.
Winning Balance is not just about gymnastics, but it does talk it its fair share. After all, gymnastics was a huge part of Shawn's life growing up, and it's something she excelled at. In the book, you get to see firsthand how difficult it is to grow up competing in gymnastics and how much hard work goes into it, before and after school. Shawn also tells readers about making the Olympic team in 2008 and how tough it is not knowing until the last minute.
The book also reveals what Shawn has been up to since the Olympics, including her stint with Dancing With the Stars and how tough it has been for her to return to gymnastics. She also tells how her body image has been affected by not training and competing as often and the criticism she's received because of it. She relies on her faith, though, throughout her struggles, and she comes out a better person. If you like biographies or gymnastics, I would recommend this book. Otherwise, it's probably not something most readers would want to pick up. It was a fun, light read, and I am happy I got a glance inside her head.