Today marks the 50th day of the year. That's right: already! I can't believe it's been 50 days since I was in Denver watching the Chiefs win their last game of the season. I can't believe that I have been sick for most of 2012, only feeling healthy for a few days every now and then. But most of all, I can't believe that it is already February 18th! Where is the time going? One week from today will mark three years for Dan and me. We can't wait for that celebration, and it's fun knowing that we are on the downhill slope to his graduation and our wedding. I'll write more about that NEXT Saturday, though.
This morning, Dan had squadron training while I slept in. I got up, showered, and cleaned up the kitchen, and we had lunch together when he got back to my apartment. It's been nice just lounging around with him all day talking on the couch. That's something we haven't made time for as much recently, but my stress levels lately are making it more important. Now he is out working out. I wanted to go with him, but I can still barely breathe from my cold. Maybe next time.
He's also running to the grocery store on his way home to pick up a large list of ingredients for our cook-a-thon we have planned for tomorrow. We are going to make seven different dishes and freeze them in individual tupperware containers so we have lunches ready to go. I have been using this technique since October, and it's so nice being able to grab one container out of the freezer in the morning and have it thawed by lunch. It saves a lot of time, and now Dan is going to keep some in his dorm room as well so he doesn't have to eat boxed lunches all the time when he's busy at the Airfield and misses lunch at Mitch's. I will be posting recipes for what we make throughout the week, so if you're looking to do this, you will have an idea. I make all vegetarian meals for myself, but I'm sure we'll be adding meats to some of Dan's containers.
Today, I caught the cutest picture of my baby boy, Gilligan, as he was playing on Dan's lap: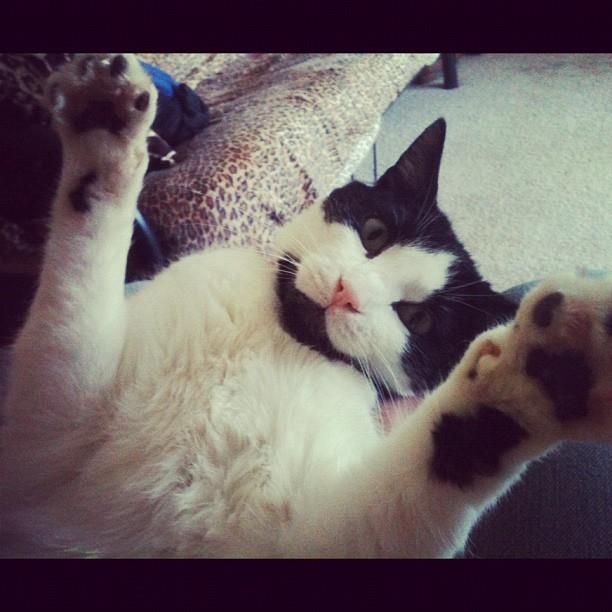 Gilligan keeping his paws up! He's such a cutie-pie!
That's all for now. I hope everyone has a wonderful and relaxing weekend!
Janelle