As you know (because I've mentioned it a few times on here already), Dan had a surprise date planned for us for Saturday night to celebrate our anniversary a couple weeks early since I have a surprise for HIM that night (the 25th). All day on Saturday, I wondered what it would be. I had no idea. He said we had to leave by 6:30 to make it to our seats by 7:00, so after dinner (which I'll get to in a minute) we headed to the World Arena, which is luckily only about a mile from my apartment. There were no signs indicating what we would be seeing once inside, so I trudged through the snowy parking lot in my heels, and we picked up our tickets at will-call. He wouldn't let me see what they said, but once we got inside it was obvious:
he took me to see the Four Continents Figure Skating Championships
! We got to see the Women's Free Skating event (which lasted about four hours), and it was SO cool.
We went up to our seats (which were pretty high up), and we could see everything beautifully! I was ecstatic to be at an athletic event because I know Dan doesn't enjoy them much, so it meant a lot that he went out of his way to do that just for me. I am incredibly lucky to be with him.
They didn't allow flash photography, so I got this (blurry) picture with my iPhone! I was excited to be there, and it was a REALLY fun experience!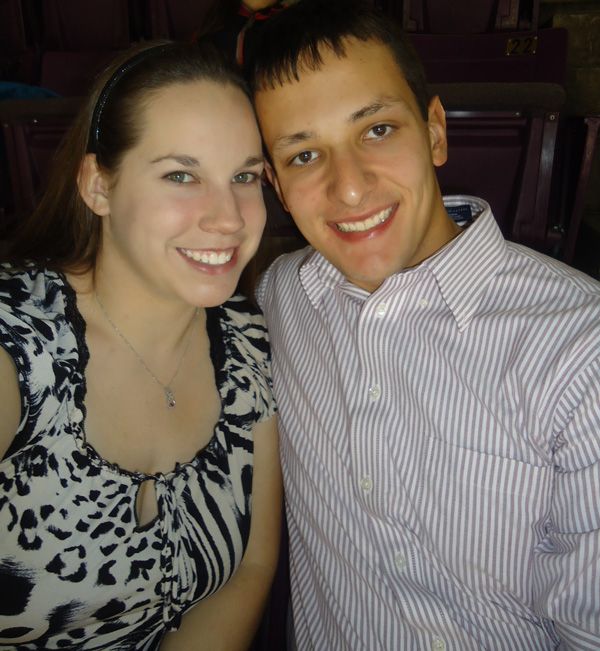 We took one picture of us the entire night... oops!
Earlier in the day, Dan had Flying Team practice. He texted me asking what I wanted for our special dinner before our date, and I'm sure he was expecting me to choose something more elaborate... but what I really wanted was the delicious homemade (almost) raw vegetable pizza. I have made it a few times, but he had only had it once with me before. I sent him the list of ingredients because he said he would stop by the grocery store on his way back to my apartment (because I couldn't go -- he had my car for the day to get to and from practice so I could sleep in). He picked them up, and knocked on my door (while normally he would just come on in), and when I answered it, he pulled some gorgeous flowers out from behind his back as a surprise. It had been a (long) while since he'd given me flowers, and these were definitely well worth the wait!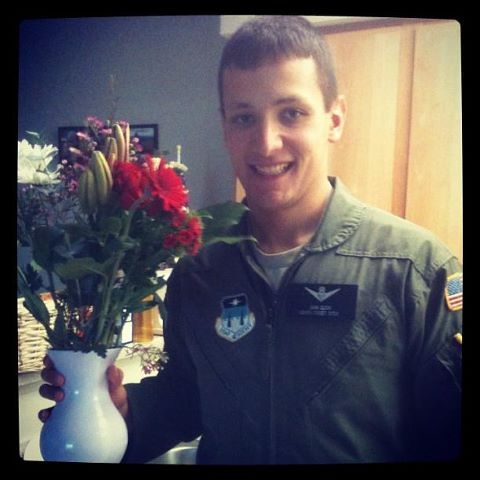 Doesn't he look handsome in his flight suit? ;)
After Dan got home and surprised me with those flowers, he passed out on my futon for two full hours in his flight suit. I let him sleep because I knew he needed it, and I started prepping the veggies for dinner. When it was time to cook everything, I woke him up so we could start the pizza and he could get changed for the night out. We LOVED the dinner we made, so I'll share the recipe for anyone who is interested.
Recipe: Cold (or warm) Vegetable Pizza
Ingredients:
Crescent Rolls (one package)
Cream Cheese (one block)
Sour Cream (four ounces)
Ranch Dressing Mix (half of one packet)
Italian Seasonings (plus onion and garlic powder)
Mozzarella or Italian Blend Cheese (handful, shredded)
Zucchini (half of one)
Green Onions (half of one bunch)
Onion (one quarter of one)
Mushrooms (handful)
Spinach (handful)
Directions:
Open crescent rolls and form dough into one big piece on a cookie pan.
Bake according to directions on package.
Mix cream cheese, sour cream, ranch packet, and seasonings together very well.
Spread the mixture on top of cooked crescent rolls.
Top with all of the veggies.
Cover the top with shredded cheese.
Eat raw or cook for three minutes to melt cheese on top -- it is divine both ways!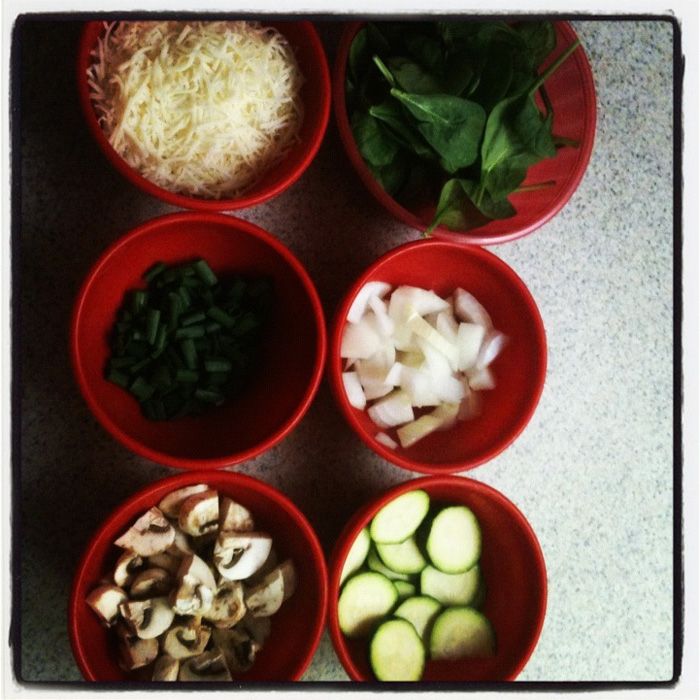 All of our toppings before making the pizza
After topping the pizza while it's still completely raw
We cooked ours for barely three minutes just to warm up the cheese, and it was perfect!
Well, this post is long enough. I will update again tomorrow. I can't believe we're almost half way through February already!
Janelle