Again, since I have the time, I am completing another blog challenge post. Today marks day 20! To read more about the challenge,
click here
.
Today's Challenge: 20. Describe three significant memories from your childhood.
Well, this will be fun. These are in no particular order.
1. My brother was born, stealing my thunder
. No, I don't hate him, but I really should be an only child. Seriously. We have never really gotten along or been close, although everyone told us we would be some day. Somehow, I doubt that. He was born just six days before I turned four, and I immediately knew that it was no longer all about me.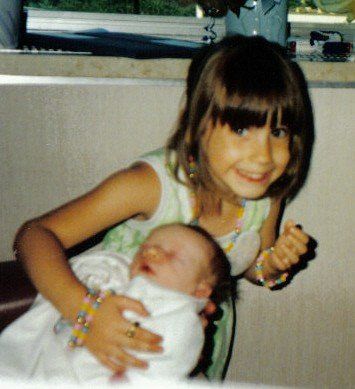 (I'm carrying him like a football!)
2. Tailgating in the Arrowhead Stadium parking lot before and after Chiefs games
. This may seem like a strange memory to most, but I practically grew up at that place. While many might think I'd remember the actual games better, the most fun part for me as a kid was hanging out in the parking lot before and after the games playing catch with the other kids, eating all the delicious grilled tailgate food, an sneaking the occasional sips of beer.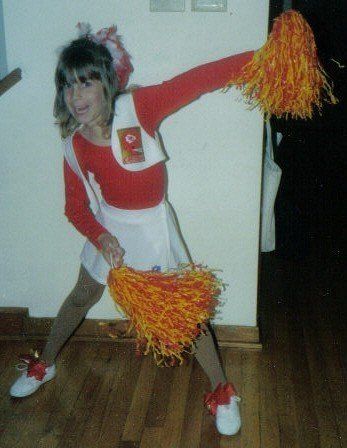 (not in the parking lot, but still... major Chiefs fan here!)
3. Tearing my MCL (or something) in my knee
. I was in sixth grade, and I had been competing in power tumbling for years. I loved it, and I was good at it. It is probably the only thing I've ever been truly and naturally GOOD at in my entire life. Just after qualifying for Nationals, and on the very last night of winter break, I landed on my toe and felt the most excruciating pain ever. My leg was stuck in position, partially bent, and a trip to the emergency room commenced around 9:00 that night. After some time on crutches, lots of ice and pain pills, and a few MRIs, I was running all over the place again but too nervous to go back to acrobats, which is the only thing I have ever regretted in my entire life.
(right after qualifying for Nationals)
There are, of course, many other significant memories from my childhood. Since this was for a blog challenge, though, I decided to go with the first three that popped into my head, as they naturally came to me, and what you see is what you get!