Well, today was the day that Dan left for China (as you well know from my previous post). I've reacted much better than I thought I would so far, but the whole day has been a kind of haze. I'm so tired because I slept for a total of two hours last night, got up at 4:15, and was on an adrenaline rush all morning. I do go in to work tomorrow, so I will be getting up at my normal time of 6:20. It's now 9:10PM, and I am EXHAUSTED. I forced myself to stay awake all day so that I'll be able to sleep tonight. I can't nap anymore because when I do, I find that I can't sleep as well. I planned on an early night, so I am about to hit the pillow and read for 20 minutes or so and then pass out.
It's good knowing that I just need to make it through tomorrow because then I have a three day weekend (although, I wish that Dan were here for the three day weekend. Oh well). He gave me a letter before he left (we exchange letters every time), and I am saving it to open tomorrow evening when I get home because I know I'll need it more then.
In other news, I can finally post about Dan's truck! He's allowed to have it now, and it's beautiful! No, it's not new or perfect, but it's everything we were looking for for the duration of our time in Colorado. It's got four wheel drive and towing capabilities. I'm looking forward to camping under the stars in the bed of it later this summer! :) I posted a picture below...
Our letters to each other before we exchanged them
I made this last weekend and snuck it into his envelope... it's the key to my heart so he has it all the way in Beijing! (Cheesy, I know)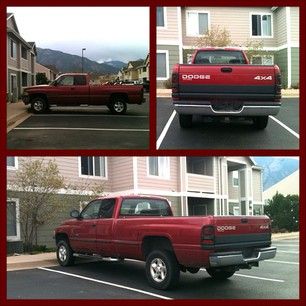 Finally, Dan is allowed to own a vehicle again! He couldn't at the Prep School or the first two years of USAFA, so finding this great deal was AMAZING, and it's just what we were looking for! :)
Well, that's all I've got time for. Enjoy.