Since getting engaged 11 months ago, Dan and I have not done much wedding planning. In fact, we talk a LOT about it but haven't had to to actually put anything into place. One of the main things we agreed on, however, was asking our friend Charles to officiate our wedding.
Unfortunately, Dan could not be here with me in Kansas City as I asked Charles officially today, but that's okay. I baked a cake this morning and then iced it. After that, I wrote on it in red icing: "Charles, will you marry me... and Dan?" Then I included three hearts and our wedding date, 5-30-14. I threw some blue sprinkles on top and called it quits.
No, I am not a professional baker or decorator, and no, it doesn't look great, but I found the idea a while ago and HAD to do it. When I met Charles and Ashley (college English Ed major friends) for lunch at Fazolis, I knew it had to happen, so I told Ashley what I had in my car so she could take pictures. It was a fairly humorous few moments, and in the end, he said YES!!! We can officially check one more thing off of our incredibly way-too-long list of things to take care of for our big day!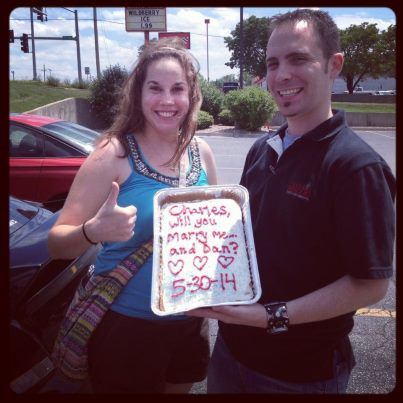 In other news, today was my last day in Missouri. I drive back to Colorado tomorrow, and I will be picking Dan up from the airport on Thursday afternoon as he returns from China after a month away! This week is just a tiny bit exciting for me! :)