Everyone has herd of the book
The Giver
by Lois Lowry. Most people have even read it at one point or another. But how many people knew it was the first book in a trilogy? I sure didn't until earlier this year, but I was excited when I discovered it. There's even more: it turns out that the author had a big shock in for everyone -- a new book in the series! It is now a quartet. Well, it will be in October, which is SOON. I have read the first two books,
The Giver
and
Gathering Blue
, and I have the third one ready to read next on my Nook; it's called
Messenger
.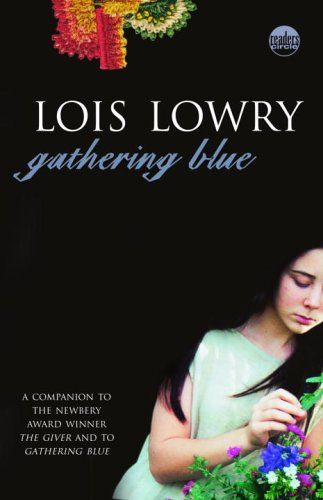 Before I get started, if you'd like to read my review of
The Giver
,
CLICK HERE
.
Gathering Blue did not disappoint me. In fact, it kept me wishing for more, so I'm glad there are two other books to satisfy that. The weird thing about this series is that it's not necessarily just chronological with characters, setting, plot, etc. I read somewhere online that the final book kind of ties all three of the others together, so I am anxious to see how that happens!
In the novel, Kira, the main character, loses her mother in the very beginning. Her father had died before she was born, so now as a young girl, she is on her own. Not only is Kira on her own, but she also has a physical disability and is shunned by all of the adults in her community. Left with nothing but a friend who is a little boy, she petitions to be allowed to stay in the village she was raised in despite not being able to do a "real" job for the society.
She is taken in and allowed to work with her hands creating garments when she befriends an old woman who dyes yarn. Kira discovers an entire new world outside of the one she has lived in, and this dystopian novel had me eager to read each night. I cannot wait to read The Messenger as soon as I finish the book I'm currently reading, and I hope to purchase Book #4 sometime this fall.