As I shared about a week ago, I want to share random memories through my blog posts. They won't always be in order, but I did compile a list of things I would love to remember since February of 2009, when Dan and I began dating. Some of the memories will be dates we've been on or things that we've done together, while other posts will be about my own memories within that timeframe. I don't care if people read these posts or not; you all may make that decision, as I'm not posting these memories for "views" on my page. I want to document these things so that I will always have them written out. If I ever lose my memory, I will have these posts to look back on. :)
What I am going to recall in this post is my second official date with Dan. It took place in early March of 2009. We had hung out several times casually in between our first and second dates, but he told me one day that he had something special planned. Skeptical, I agreed. Then, he told me not to wear a dress or skirt OR sandals. I was thoroughly confused, but it doesn't take long to figure out that you're going to be flying somewhere when you're dating a pilot. It turns out that I was right!
Many of you know how nervous I am in and around airplanes, so I grew extremely nervous. I didn't want Dan to know, though, because he told me that he could "never date a girl who didn't love flying"... so I faked it. (Yes, he does know this now. I am not incriminating myself). I dressed appropriately (jeans, tennis shoes, and a nice top) and climbed into a small Cessna airplane for the first time in my life. (I had only flown on airline planes before). We started our short journey in Warrensburg, Missouri at the University of Central Missouri's Skyhaven Airport, where Dan had rented a plane for a few hours.
He showed me all kinds of nerdy things about the plane (I think he was just showing off at the time, but it turns out he does know a lot! He placed FIRST in the entire region at a Flying Team competition in the Pre-Flight event in October of 2011.) before we took off, and then he surprised me again by letting me wear a set of headphones while he flew us to dinner. That meant that I got to listen to him making all of his weird calls and whatnot, and it was really cool. He flew me over Raytown, the city I grew up in, and then over downtown Kansas City, which was really cool.
We ended the first leg of our flight at Red Robin in Olathe, Kansas, where we stopped for dinner. It was Dan's first time at a Red Robin, but I had been there several times before. He thought it was amazing that they had a burger with a fried egg on it, and he excitedly told the waitress, "I'll have the burger with the egg on it!" I laughed so hard, and I will always remember that moment. :) After eating, we flew back to Warrensburg, and on the way, Dan did a "Zero G" in the plane (which I still don't understand), and it felt like we were falling from the sky. He did it on purpose to scare me (which is why I will never be able to fully trust him! Kidding...), but he later regretted it when I shrieked (horror movie style) into the headphones that he had on. Joke's on you, buddy. ;)
The fact that Dan rented a plane to fly me to dinner when we had been dating for just a couple weeks will always amaze me. Unfortunately, I did not take any pictures that night (I know, you're as shocked as I am)... but I do have a few pictures of him from around the same time, so I put them together to show.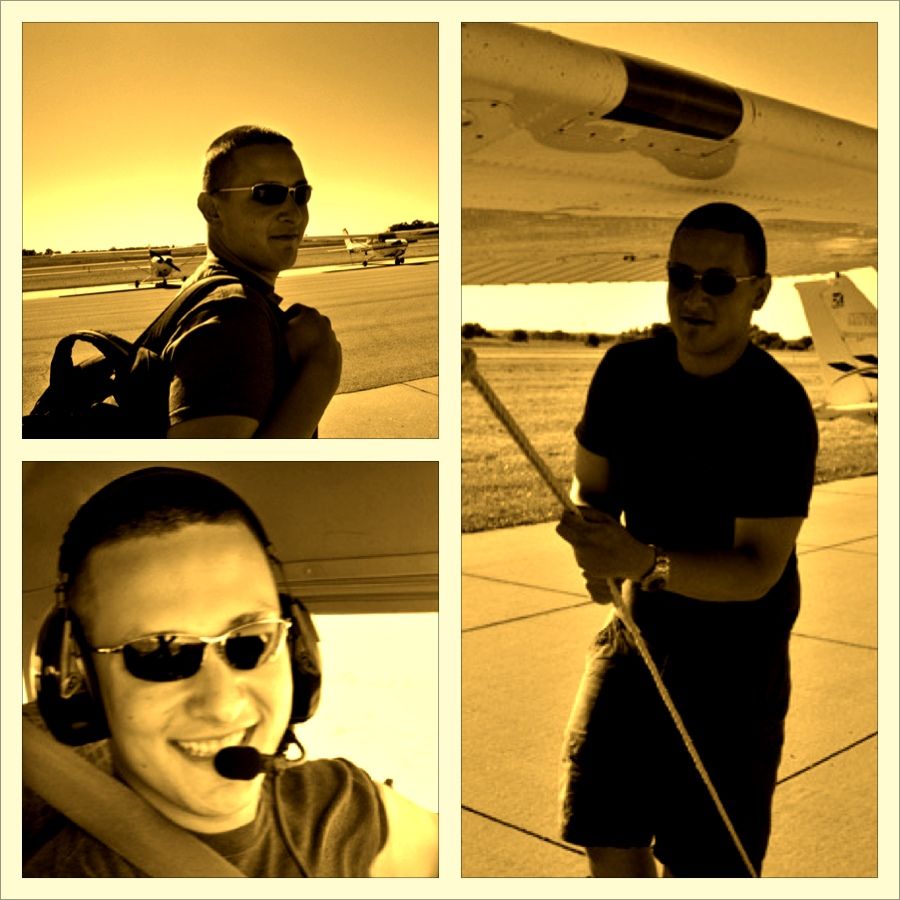 I'll write more tomorrow,
Janelle