It was so great being able to pick Dan up at the Academy last night. He went out of town the previous weekend, so it had been two weeks since we'd be able to really hang out, and I know that's not much time apart, but we weren't used to it. Yeah, yeah, we've done 11+ weeks apart, but it was so long ago that it was so nice to just be in his arms again.
I couldn't pick him up until 6:30, so we stopped by Whole Foods and picked up what we needed to grill some dinner, and it was a lot of fun. We made beer brats (Tofurkey brand for me), and we loaded them with spicy mustard and sauerkraut! Yum! Home-brewed beer also hit the spot with our first grilled meal of the warm season.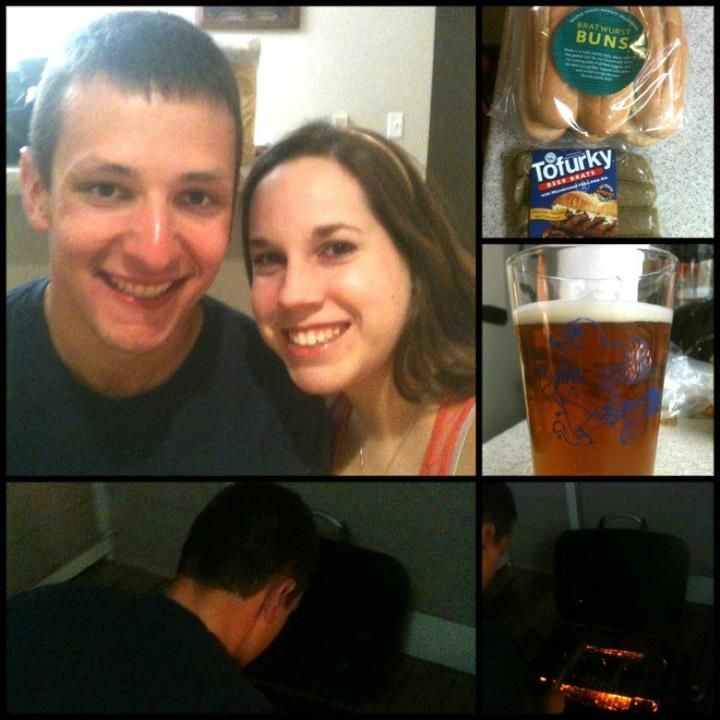 After dinner, we just hung around my apartment together watching TV and talking. It was so nice, but Dan was wiped out from Recognition training (but he had a blast being on the other side this year!) so we went to bed pretty early. Today we had a pretty mundane day, but it was nice being back to normal, hanging out around my apartment, doing lots of laundry together, running a few errands, and just hanging out.
For dinner, we met Olly and his cousin at Biaggi's at Briargate because he was in town, so it was nice seeing him and catching up. It's always fun to see people from home out here! Plus, Biaggi's is one of my favorite restaurants, so it was a double win!
This week is the last week before spring break, so I have five school days to make it through before enjoying an entire week off! I couldn't be more excited. It will be great to sleep in and spend each day with Dan. My mom and grandma are coming to Colorado Springs for part of the week, so I'm excited about seeing them and showing my grandma around (since it's her first visit). I'm also stoked to see the Hunger Games with my grandma! May the odds be ever in your favor...
I'll end with a sweet picture of my adorable cats!