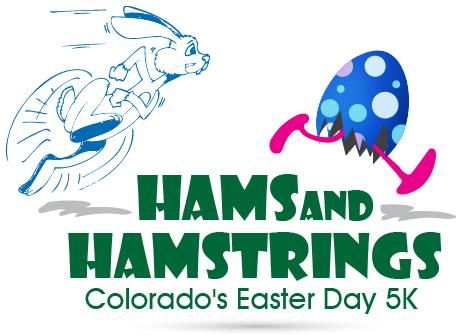 This morning, my alarm went off at 6:30, and my first thought was: "NO! It's not Monday yet!" because that's the exact time I wake up most days for work. My body realized it was only Sunday, but my mind hadn't registered yet that today was the big day for the 5K! Once it hit, I jumped up and made Dan do so as well. We got dressed in our running clothes that we had laid out last night to save time and had our breakfast. Dan had his normal breakfast because he can run with anything in his belly. I, on the other hand, am very picky when it comes to eating before running... because most things make me feel sick. I had a few fork-fuls of natural peanut butter, and I was ready to go!
We headed up to the north part of Colorado Springs and found the race location. It was only 33 degrees this morning, but neither of us can run in heavy clothes, so we froze while we waited in line to pick up our packets and t-shirts (which are really sweet, by the way). We went back to the car to warm back up again before the race because, as usual, we were early and everyone else (or so it seemed) was late.
As the time of the race got closer, we headed to the starting line to stretch out and get ready. While waiting there with hundreds of other people, they announced that we'd be starting late because people were still in line to pick up their packers/shirts. We waited. And waited. And waited. Finally, the National Anthem began, and I grew giddy because I knew we were close! I hadn't run a 5K since Thanksgiving morning (in a race -- I've run several in training since then).
BOOM! The gun went off, and we took off running, trying not to be trampled since we were far too close to the front. Dan took off on his own, and I ran the entire thing by myself. This was our third 5K together, but it was the first time we ran them separately. He finished far ahead of me, of course, but he came back to me and finished (again) with me. I was so happy that I made it all the way through, hills and all, on my own. The little voice inside my head kept saying:
"There will come a day when you can no longer run. Today is NOT that day."
It really did keep me going, and for that I am thankful.
Now it's time to step it up a notch to better prepare for the next 5K on my list: May 5th, 2012, just under one month away. I want to be running five miles consistently in training by then so I can add some speed to my 5K (because my time was not so great, but it felt AMAZING!). When we finished, we ate chips and salsa, guacamole, pasta, burritos, and dipped marshmallows, pretzels, graham crackers, and strawberries in the chocolate fountain.
Did I mention that I have now completed 5K races in three different states? That's right: Missouri, Kansas, and Colorado are all mine. Here's to many more! Seeing Pikes Peak while I ran the trails this morning made me appreciate the beauty of where I live even more. I am so lucky to have the opportunity to live in Colorado Springs, and I am grateful that the Air Force brought Dan here so that we could experience it together. Overall, today's race was a great experience, and I hope we can run in the Hams and Hamstrings Easter Day 5K again next year!