Well,
I got the job
!!! I am so excited and ready to begin, but I can't get ahead of myself. I need to finish up this school year first. Let's just say that I couldn't be more ready, though. :)
ALSO, today is my wonderful little fur-baby Gilligan's birthday! He turns FIVE today, and I can't believe it. He still sleeps on my pillow each and every night, just like he has since he was a little kitten when I adopted him.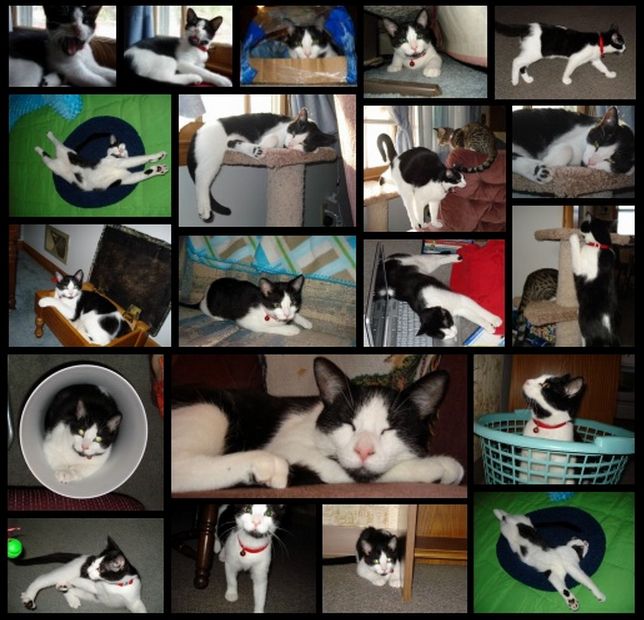 I can't believe that it's been nearly five years since I met this sweet little guy. I first met him while I was working at Lakewood Animal Health Center in Lee's Summit, MO. He was a fun and fiesty little guy, and I taught him how to jump while he was there. I was in the market for a cat, since I was moving into my first apartment (from the college dorms). I couldn't have one until closer to the end of the summer, though, so when I found him in June, I was upset that I wouldn't be able to have him. Little did I know that he would still be around come July.
See, Gilligan (who was then named Skittles... what the heck?! He's not purple and orange, people!) has a problem. It's not such a big deal to me, but I guess it's quite the deal breaker for others. Gilligan has a hernia near his umbilical cord, and that makes him throw up. A lot. He throws up almost every day at least once. Yes, it's a pain in the butt, but it's nothing he can help. I love him just the same, and yes, I adopted him knowing full well that he would be like that.
He's the most lovable little fellow, and I am so thankful that he is a part of my life. Now, I probably sound like a crazy cat lady here, but I don't care. He's the best animal I could have ever asked for, and I don't know what I'll do without him one day. He's fantastic, and he meets me at the door every day when I get home from work. I think he thinks he's a dog. Gilligan is the first cat that is ALL MINE, and he definitely knows who his owner is. While he's sweet to everyone, he loves me the best, and it's obvious. I am so incredibly lucky to have him in my life.
Happy fifth birthday, Gilligan!