Hello! Happy Friday (and weekend!) to everyone. :)
This evening, Dan texted me and told me to pick him up earlier than I thought I'd be able to, so I don't have a challenge written for today, and now it's almost time for bed. Oops. I promise I'll get to that tomorrow while he's at Flying Team practice...
We had a fun, spontaneous date, and I absolutely loved it! We had a blast. We had a Groupon deal to Smashburger, so we went there for the first time and loved it. We'll definitely be going back. We then went to Cold Stone and shared a big ice cream because Dan had a gift card for it. When I thought we were simply driving home, we happened to see a carnival off the road! I squealed (naturally), and Dan turned in so we could go. We went on the ferris wheel together and had a lot of fun. Overall, it's been a great night. I really do miss him during the week and feel like we're still in a long distance relationship... just because we never get to see each other anymore. It sucks being so busy sometimes, but we're both achieving our goals and working hard, so there's nothing wrong with it.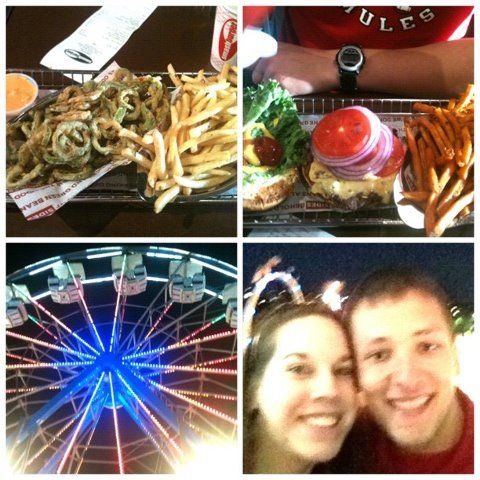 Sorry the pictures are blurry; they're from my iPhone. I am getting a new one soon, and hopefully that will have a better quality camera! :)
Good night, everyone! :)