Since July is nearing an end, I decided I better post this while I still can. My mom turned 50 on July 7th, and I wanted to give her an amazing birthday present for it. Since we all know that teachers don't make much money, I decided to try my hand at making her something she would love even more than anything I could buy. But first, I had to give her a gag gift, right? After all, she did turn 50! I made both things, but the second gift, the one with the photos, is the meaningful one. Check them both out!
Gag Gift -- 49 Sucks, but 50 Rocks!
First, I bought glass bowls and painted on them: 49 sucks... but 50 ROCKS!
Then, I put one of those weird foam flower things inside the "49" bowl...
I counted out 49 suckers...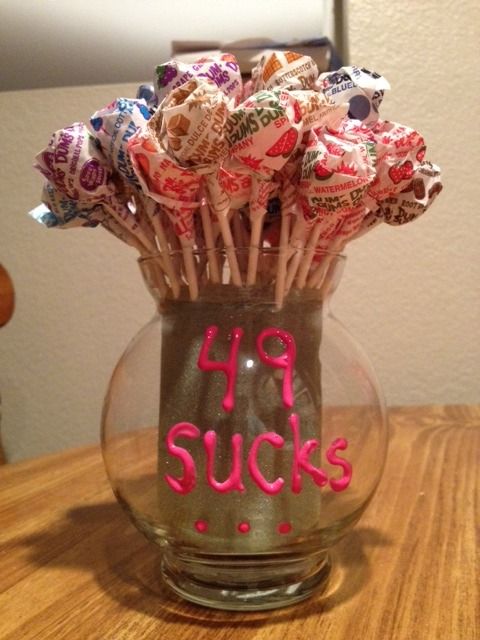 ... and stuck them in! :)
Doesn't it look cool? :)
Then, I filled the "50" bowl with 50 rocks...
... and the finished product! 49 SUCKS, but 50 ROCKS!
---------------------------------------------------------------------------------
Okay, so that was the FUN, silly gift, but here is the special one. I decided to collect several pictures of my brother, Derek, and me from when we were growing up. I made sure to have an equal amount of photos of JUST Derek, JUST me, and a good amount of us together. I made them square by putting them on Instagram (on an alternate account so no one had to be bored by these photos) and then ordering them through Snapfish. I made one a little bigger so it could go in the middle. The small photos are 2x2, and the one in the middle is 4x4.
I started with a 12x12 canvas and some printed pictures...
All finished! Yay!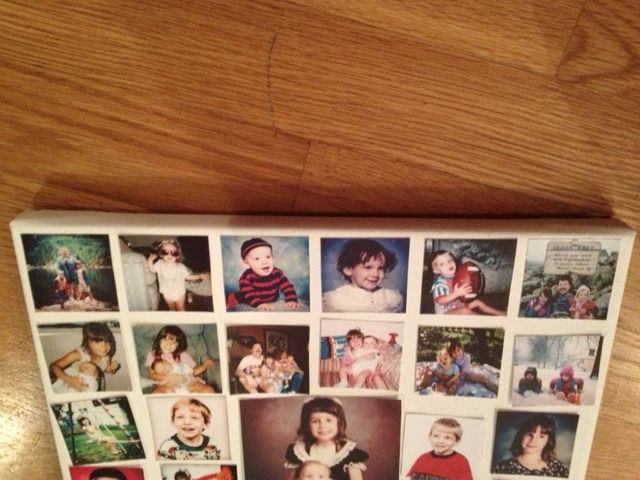 Detail...
That gift took so much time to make, but the supplies were really cheap. I did put two layers of matte Mod Podge on top to ensure that the photos won't fall off of the canvas. I think it turned out great for my first one, and I'm excited to make more like this!