I said on Saturday night that I would post pictures from our day trip to Denver, and then I wrote out a blog challenge on Sunday instead. Oops. I know people are just DYING to see pictures from that day (/sarcasm), so I will post them now.
We went to the outlets at Castle Rock and walked around together for a while, and we both ended up buying some steeply discounted running shorts at the Nike outlet, which was amazing. I ended up getting a sweet pair of phantom shorts that are originally $45 for just $13.49, and I am HAPPY with that purchase! I just wish they would have had more in my size; I would have bought all the colors. We ate outside at Chik-Fil-A for lunch, and while I don't eat chicken, I LOVE their fries and sauce, so it's always a great day for me when Dan wants chicken! :)

Afterward, we headed to Denver (another 20 minutes or so from Castle Rock) and parked at the 16th Street Mall, which is really an outdoor area near downtown to walk around, and there are shops all over the place. We didn't have time to check out any of the stores this time, but we will definitely be going back. Instead, we went to the da Vinci Machines exhibit, and it was really neat learning about all of his inventions that I had no idea about. It was also neat having Dan explain everything to me since he is so interested in it all.

We found a Groupon Now! deal for a Greek café and market nearby, so we went there for dinner and had some DELICIOUS food before heading to a Colorado Rockies game. We bought tickets from a scalper on the street outside of Coors Field, and we saved some money that way too. Although the Rockies lost, there was a SWEET fireworks show afterward, and we were both really surprised to see that Colorado was putting on fireworks ANYWHERE since the whole state has been on fire for over a month now... but either way, it was great!

On our way home, we stopped at Burger King to redeem our two free ice cream cones, and they were extra tasty after being outside in the heat all day!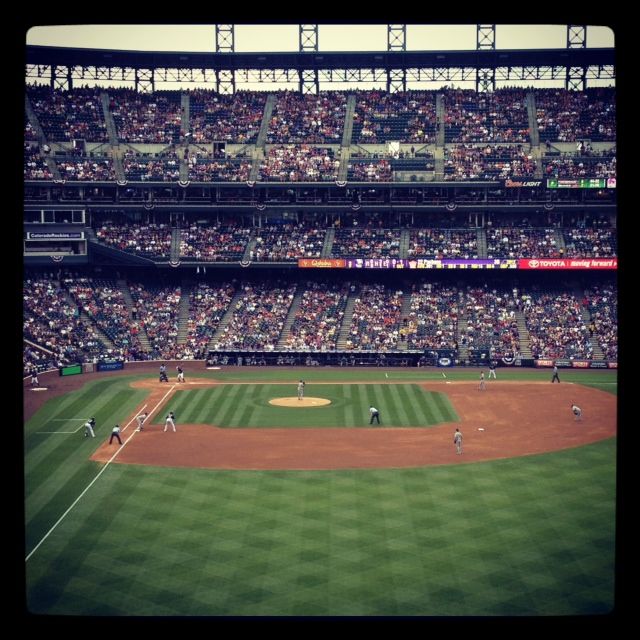 Overall, Saturday was an extremely fun day, and I hope we can have another day like that soon! :)